The Devices page is the most used tool in Addigy and is key to taking care of your customers as quickly as possible. Here you can sort, filter, report, and get immediate access to devices, or a subset of them.
Contents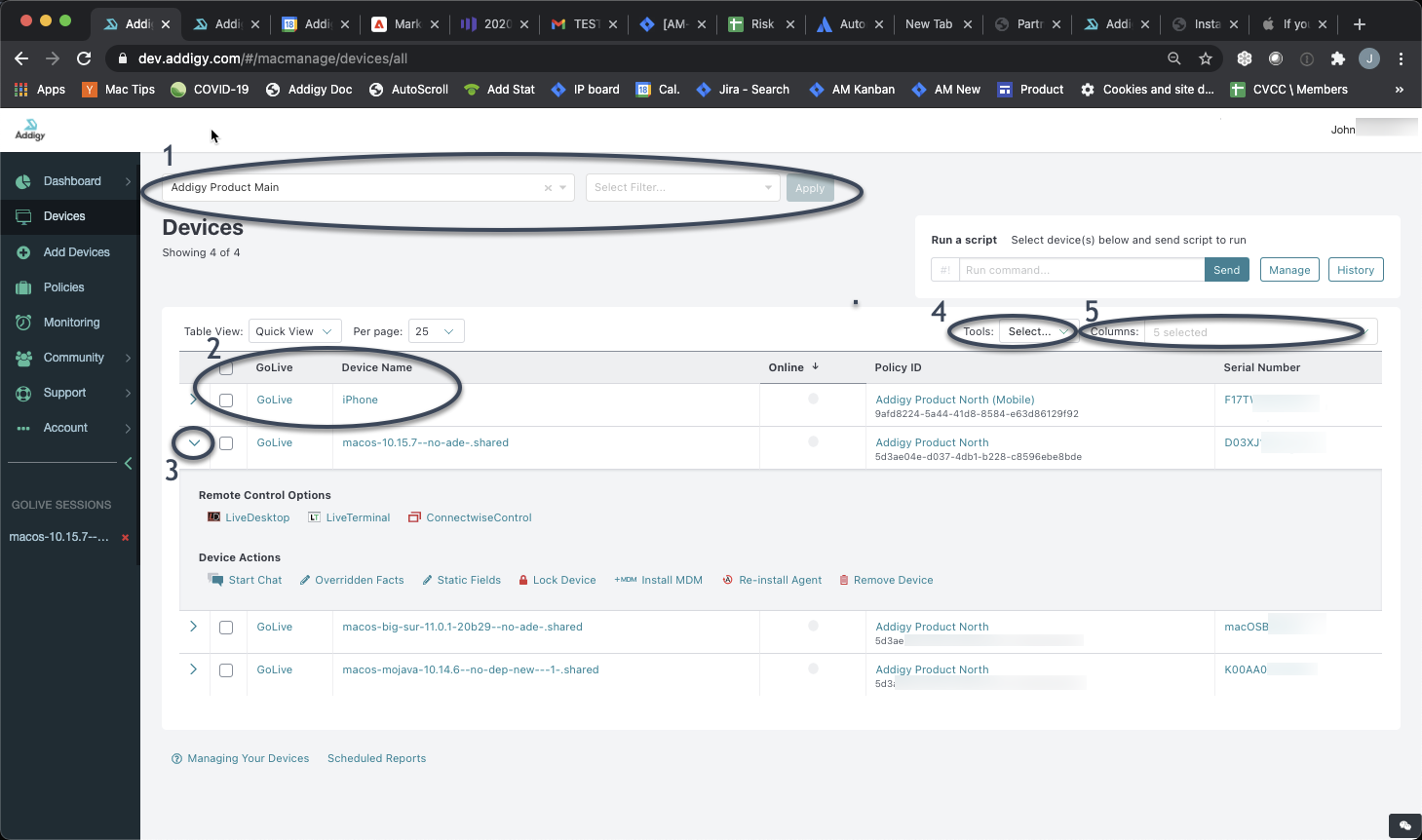 1. Policy Selector and Device Filter
The Policy Selector and Device filter appeared in the Monitoring page and several dashboards earlier this year. With the change to the Devices page the Policy selector and Device filter are now a part of the Devices page. You can read all about how they work here.
2. GoLive
Clicking the Device Name will now open GoLive. When the new Devices page arrives you can click the Device name or add the "GoLive" column to any Table Views you have created.
3. Remote Control Options and Device Actions
Remote Control and Device Actions are now accessible by hitting the ">". We made this change in an effort to allow you to use as much space as possible to display Device information.
4. Tools menu
We've separated actions you can take on the Device page from selecting columns to display in the Devices table. The Tools menu allows choice of exporting data, sending a survey to your users, Adding, Removing, and Reordering the columns in your table views, and Managing Static fields.
5. Column Selection
We've broken out the selection of columns to display in the Device table from all the other options. We've also made the list of columns to select searchable.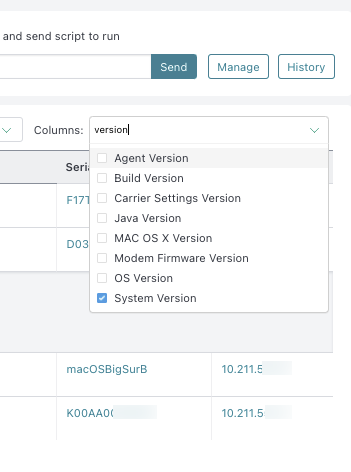 6. Run Scripts on GoLive
As part of the work on Devices, we've also added a new tab to GoLive that allows you full access to the Run Scripts capability on the Devices page. Note: The new Terminal tab will only appear if LiveTerminal is disabled for the policy the device is enrolled in. We will be making this new tab always available in the future.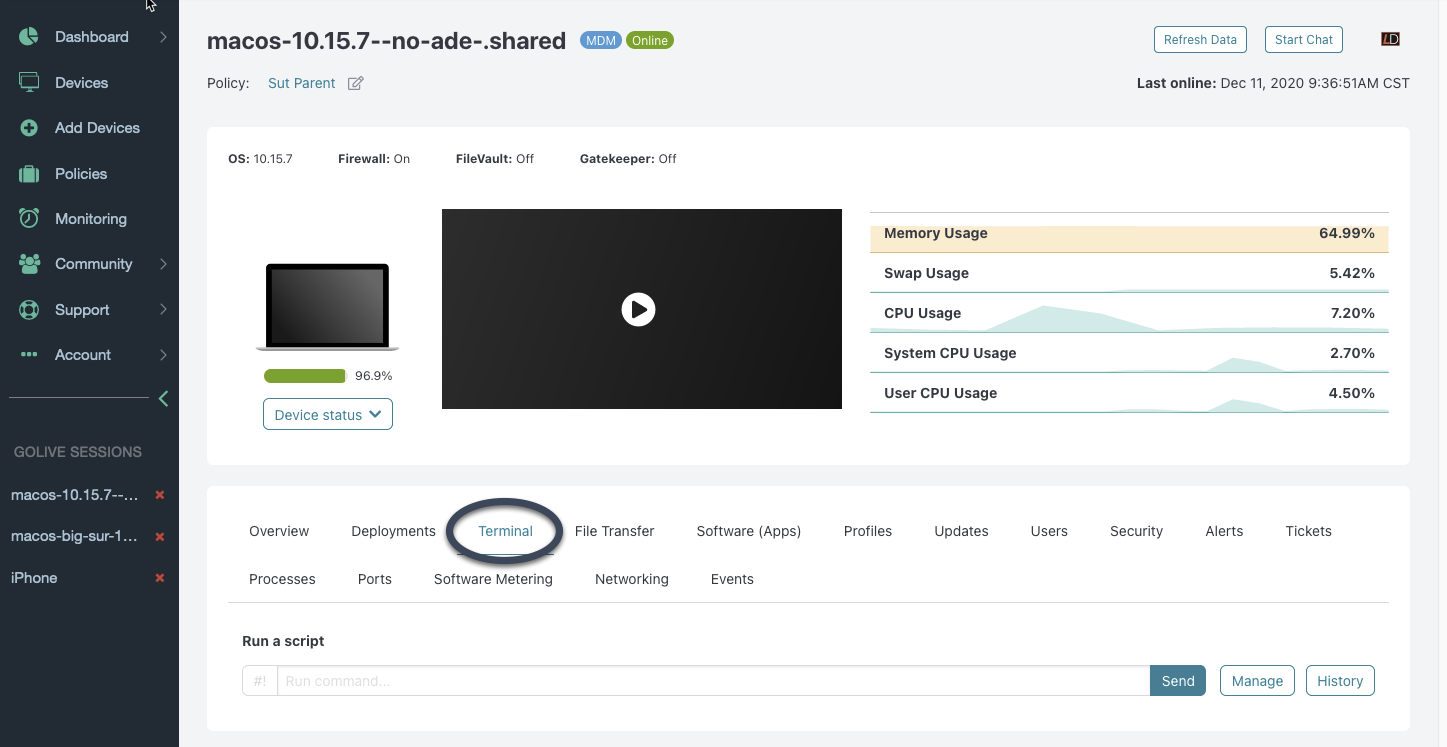 Things to Note
There are few issues that we will be addressing in future releases:
a. When creating a new Script - the "Categories" field requires you to hit enter to accept a category selection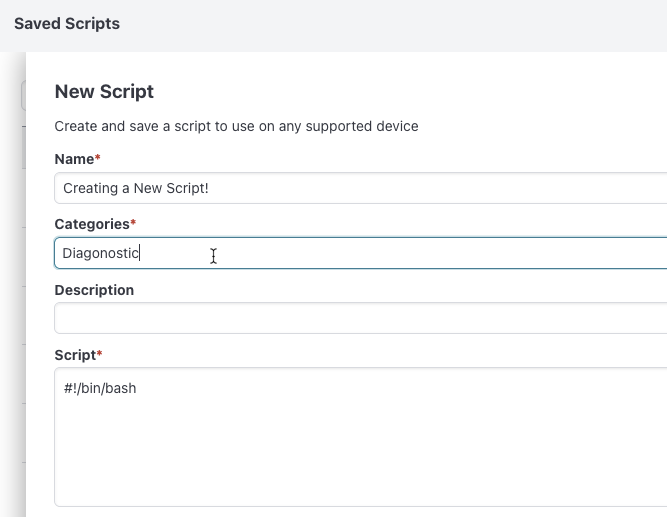 If your category was properly added it will show as this:

b. Fact Override - when a Device Fact is overridden, the new value will not appear in the Devices page until the next Audit runs on the device.