Policies are the core framework within the Addigy platform for managing deployments to groups of devices and can be Created, Configured, Deployed, and Deleted.
If the policy does not have the Delete Policy option, 
all Devices and Child Policies must be removed first.
Right-click on the policy name of the policy you want to delete, and in the popup menu that shows, select the Delete Policy option.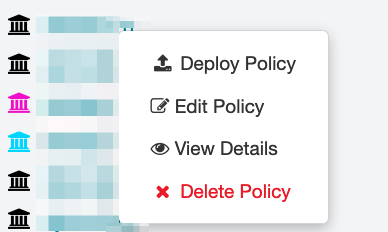 Common Issues:
You can run into the following warning message if you try to delete a policy while a user is restricted to the policy that you are trying to delete:

In order to remove the policy, please remove the user policy restrictions for any user that was restricted to this policy.
To find policy restrictions for specific users, navigate to
Account>Users
and
removing the policy restrictions for users in that policy.
After verifying that none of the users are
restricted to that policy, you should be able to delete it.