Starting at macOS Mojave 10.14 Privacy Preferences Policy Control (PPPC) changes require approval for agents, binaries, and other installed software on a Mac to be allowed to do specific tasks.
When devices register with Addigy's MDM services, the necessary PPPC profiles are automatically deployed to whitelist the Addigy go-agent and associated binaries, bash and any other applications required for the Addigy agent to function properly . This removes any prompts for the end user and ensures that software that requires PPPCs are installed automatically and on first deployment.
Prerequisites
The device must also be running macOS 10.14 Mojave or newer.
When installing Addigy on a Mac, make sure that you are using the Device Enrollment URL on the Add Devices Page or Automated Device Enrollment. See more details on our Installing the Addigy Agent article.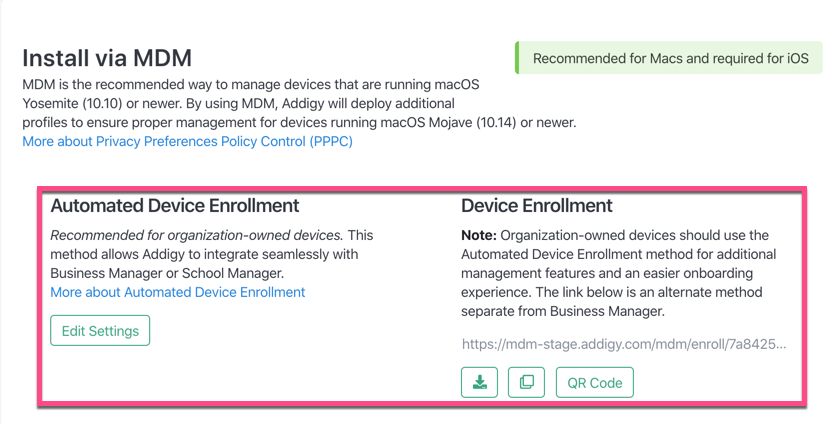 Ensuring the Automatic PPPC Profiles Are Installed
Install devices using the MDM Profile URL for the desired policy the Device should reside in or using Apple DEP.
Make sure the the MDM Profile has been approved. MDM Profiles installed manually on the machine will automatically be approved. See our article Approved MDM Profiles for more details.
If the MDM Profile is already installed on the device and it has been recently upgraded to 10.14, navigate to Policies -> Integrations -> MDM -> MDM Devices and Select the device and click the Reload button to re-run an audit on the device immediately.
Press Deploy Now or wait about 30 minutes for the device to automatically fetch its required profiles.
Once completed, you should see the PPPC profiles under System Preferences -> Profiles.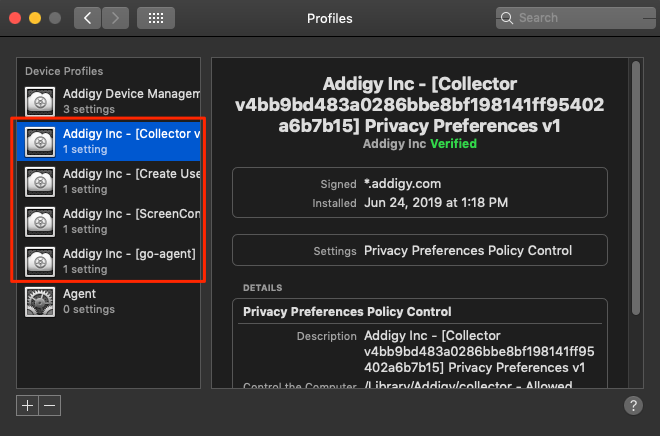 If you experience issues with these default PPPC profiles or would like additional assistance configuring your Macs to use Addigy, please contact Addigy Support: support@addigy.com.