The Addigy Standalone Catalog Beta moves the existing catalog outside of the policies page and makes it a first-class citizen in the Addigy platform. This greatly streamlines the process from creating assets to deploying them to your devices.
The new Catalog design allows for more productivity behind every click, giving Addigy administrators more room to work with and increasing the speed of the catalog overall. Additionally, the new Catalog will introduce a new tab for Device Users - coming soon!
Let's cover a few topics:
How to enable the Standalone catalog for your organization
New Catalog page basics
How to provide feedback on the new Catalog
What's next?
How to enable the Standalone Catalog for your organization
Enable the new Catalog by navigating to Account -> Settings (scroll down to the bottom half of the page). Toggle on the switch for Standalone Catalog.

That's it! Now refresh your page and you will see Catalog in the left-hand navigation bar.
Once you've started using the new Catalog section, please share your feedback. Return to Account -> Settings, and click "Feedback" under the Standalone Catalog.
New Catalog Basics

The new layout is a big improvement over the old one. Most of the features from the old catalog are already here with some improvements to reduce the time it takes to complete most of the primary tasks.

Assigning assets to multiple policies at once
From the catalog, you can now assign and unassign any asset to one or more policies. Before, you would have to go to each policy and add each item individually (plus confirm each addition/removal). The new improvement allows you to assign, for example, the new version of Chrome to all your policies at once, without ever leaving the catalog. We even removed the confirmation step!
Cloning
Creating, editing, and deleting catalog assets are available of course, but now you can also clone an item to make new versions and variations easier to create.
Improved Layout
With it's own dedicated page, the new catalog allows for over 52% more viewport space than the old catalog, making it way easier to browse and manage your account assets. This is especially true when showing the new multi-policy assignments popup, for example.
How to provide feedback on the new Catalog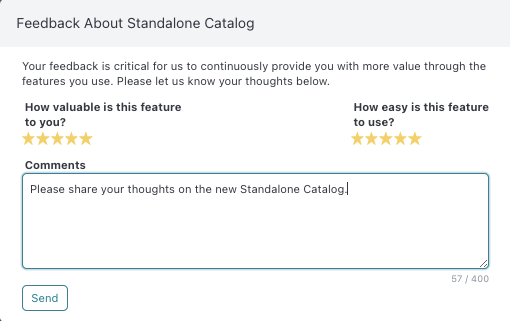 What's Next?
Here are some items that are on the roadmap.
A brand new Updates tab, which allows you to see all relevant updates for your organization.
A brand new Users tab, which allows you to create local users which can be deployed to multiple devices via policies
An updated public software library (also with multi-policy assignments)
Continuous workflow enhancements