For an overview on scripts in Self Service, view our article Assigning Scripts to Self Service.
Navigate to the Devices page.

The Run Command section allows you to send scripts to the device that run in real-time.

After selecting a script and clicking Send, an option will appear to add that script to Self Service.
Clicking Add to Self Service will add that script to a device's Self Service application. You will see a success

header after it's been sent successfully.

The end-user will now see the script inside of the Scripts section of Self Service.
If Self Service is open on the user's device, any script addition or deletion will require a refresh
of the Scripts section in Self Service. This can be accomplished by clicking the Scripts icon,
any other icon, and then back to Scripts or restarting the Self Service app.
When the end-user runs a script using Self Service, the Run button will change to Running. When the script finishes, it will show a green Done message with a check next to it.
Note: For devices running on High Sierra (OS X 10.13), a Done message will be shown with a check next to it and then disappear after 2 seconds.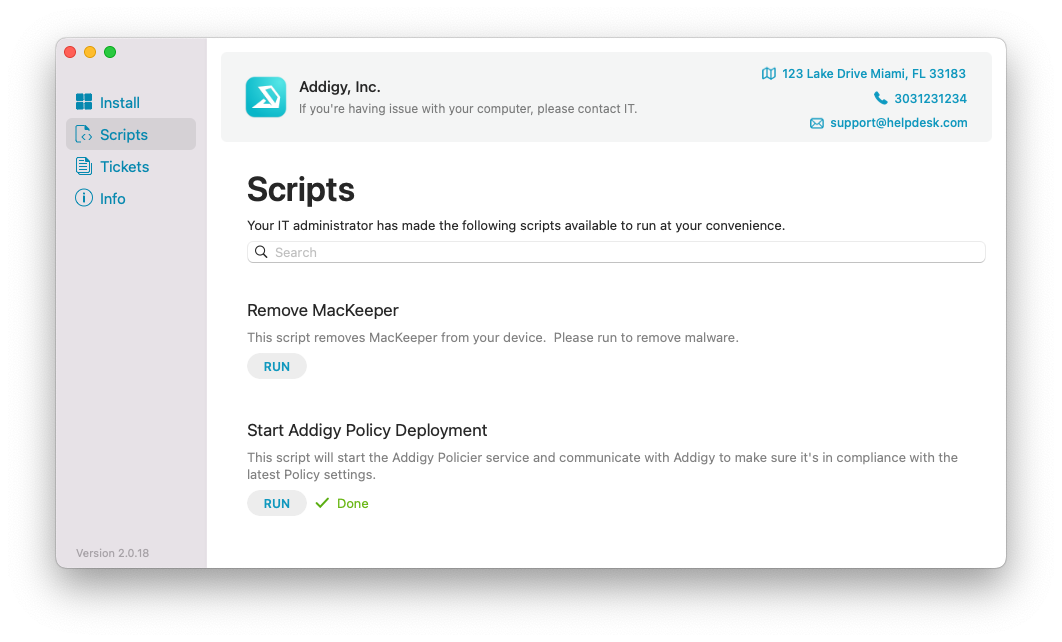 If a script has output, this is recorded in three places: the Events dashboard, the GoLive > Events tab, and in Script History. Script History can be found on the Devices page and in the GoLive > Scripts tab.