An administrator or technician would typically head to the device's GoLive page to check individual information about a device. However, there are certain instances where you need to know specific details on a device while working on the Policies page.
An example of information you might need about a device is knowing which enrollment profile was used for that specific device and comparing it to the enrollment profile assigned to the device's policy.
This type of information (and more) is available in the Policies > [policy name] > Devices page. You can do the following (requires MDM):
Refresh the MDM data of a device

This sends the Device Information, Security Information, Profile List, Application List, and Certificate List MDM commands to the device to run
See the MDM details of a device (this information also can be found on the device's GoLive page)

This modal shows the device name, last MDM response, Addigy name of the Apple Push Notification Service Certificate (APNs), if the enrollment profile is approved or not, the name of the APNs Certificate, the APNs topic, and when that topic expires.
Moreover, you can test the MDM response, silently reinstall the MDM enrollment profile (macOS 10.15 and lower), and reinstall the Addigy agent.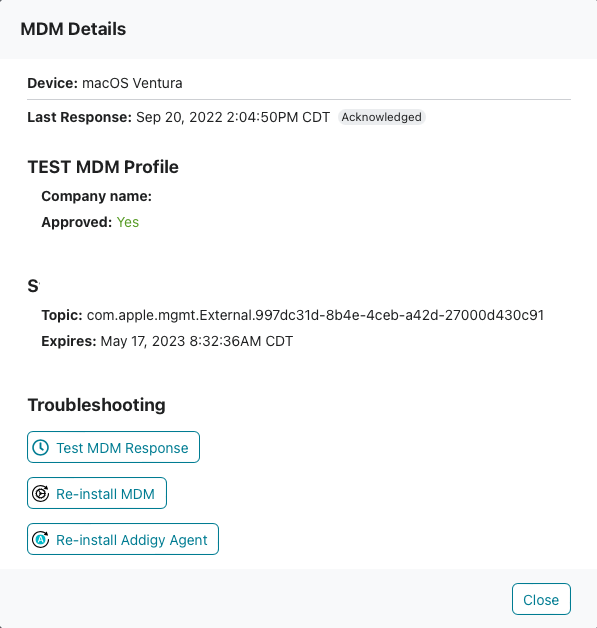 Note: Previously, admins could see some of this information under the Policies > [policy name] > Settings > Enrollment Profile tab in the MDM Devices table. This table has been removed from Addigy moving forward.