The Addigy Monitoring Dashboard allows you to control, view, and take action on your policy alerts. The Monitoring Dashboard allows administrators to have a better look at end-users device status and be proactive in solving potential problems.
Newly created organizations will have pre-populated Monitoring items. To learn how to create your own Monitoring Items, see our article How To Create a Monitoring/Alert Item.
Overview
The Monitoring Dashboard is a view of all your alerts. It allows for deep filtering to pinpoint the issues you are tracking.

In this view, you can filter your views for 1 Week, 1 Month or All. You can create custom categories and filter them:

In addition, you're able to filter the type of alerts by All, muted, closed, and open.

Monitoring Workflows
Addigy Monitoring has the following workflow when end-users machines are triggered by alert events.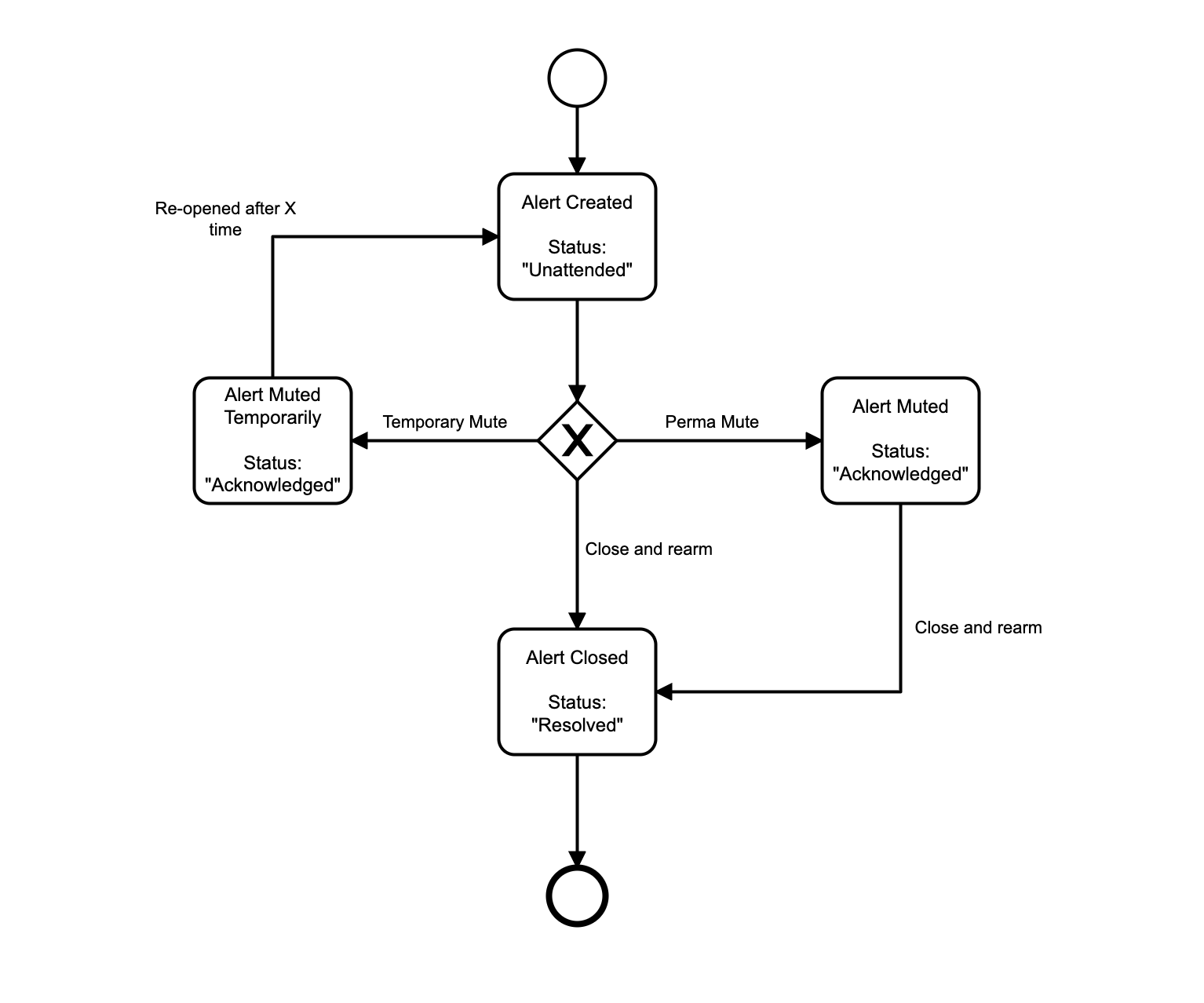 Note: When an Alert is Closed, it is automatically re-armed.
Alerts Created - Status "Unattended": When an Alert is triggered by Addigy monitoring it creates an Unattended Alert for you to take action on.

Once the alert is received there are two follow up actions you can do:
Alert Temporary Muted - Status: "Acknowledged": This action will temporarily mute the alert, an admin will not receive alerts for the item of the interval time of selected by the admin. Once the time expires, alerts will be received and will only stop until remediation is completed, muted or resolved.
Alert Permanently Muted - Status: "Acknowledged":

This action will permanently close current and future alerts related to this items and mark status: "Resolved"
The Addigy Monitoring Dashboard allows you to be more efficient when taking actions in a policy with multiple devices and provides a better glance on your infrastructure's current status. It allows you to easily and effectively make important admin decisions, and be also proactive about them. This was created with the admin in mind for more success stories about proactiveness in their environments.
Please feel free to create a ticket with the Addigy Support team if you have any questions about Monitoring.