Within the Addigy platform, Smart Software provides amazing power and control over your devices. With Smart Software, you can deploy almost any software or settings to your devices. In this example, we'll be creating a simple installer for the Test Software pkg.
Creating a Smart Software package in Addigy
Navigate to the Catalog page from the Navigation bar.
Select the Custom Software tab.
Select the Software option.

Select New



The Custom Software window opens. Begin by adding a Software name for your Custom Software. For the purpose of this KB article we have used My Custom Software, and the Version number 1.0.
Note: The following special characters are not suitable for Software Name: &,<, >, ", ', /


Now, you'll be greeted with Addigy's Software editor. First, you will need to add your file(s) to your Smart Software by clicking Select File(s).

File types recommended for download on Addigy are .sh or .pkg, but we have methods of installing all sorts of other file-types here in our Support Knowledgebase.


Once you've uploaded your software, press Add under Add installation script to generate an installation script for you. If you see N/A under Add installation script, then Addigy does not support automatically generating instructions for your file-type.
Auto Sensing PPPC Profile Settings
Smart Software allows you to add PPPC Profiles to your apps which help prevent privacy preference prompts for your end users.


This can be done in a few simple steps.
Type in the app name in the Enter app name placeholder. Alternatively, click on the placeholder and select the app from the dropdown menu.
Click Add.
After clicking Add you will see a pane that looks like below where you can set your PPPC profiles preferences using the dropdown menus.

Fill out all the rest of the fields for your smart software: Description, Category, and uploading a smart software icon.
Conditions
Under Conditions, you can specify which applications and software versions you want running. Software items without Conditions are not enforced. Addigy will attempt to install them once, then ignore them during future Policy Deployments. We provide two types of conditions scripts for you:
Check for a path which is shown in the screenshot below

Check for an application version which is shown in the screenshot below

There are also some additional options for the Conditions which are shown below:

You can also specify if you want an application removed from a policy or device under specific conditions, by specifying a Path, which will generate script accordingly.



When you're happy with your Smart Software, click Save Changes to save your Smart software. Save Changes will allow you to review your Smart software changes before submitting it with the Confirm Changes button.
If you'd like to undo your work, click Reset to clear your changes and begin the process over.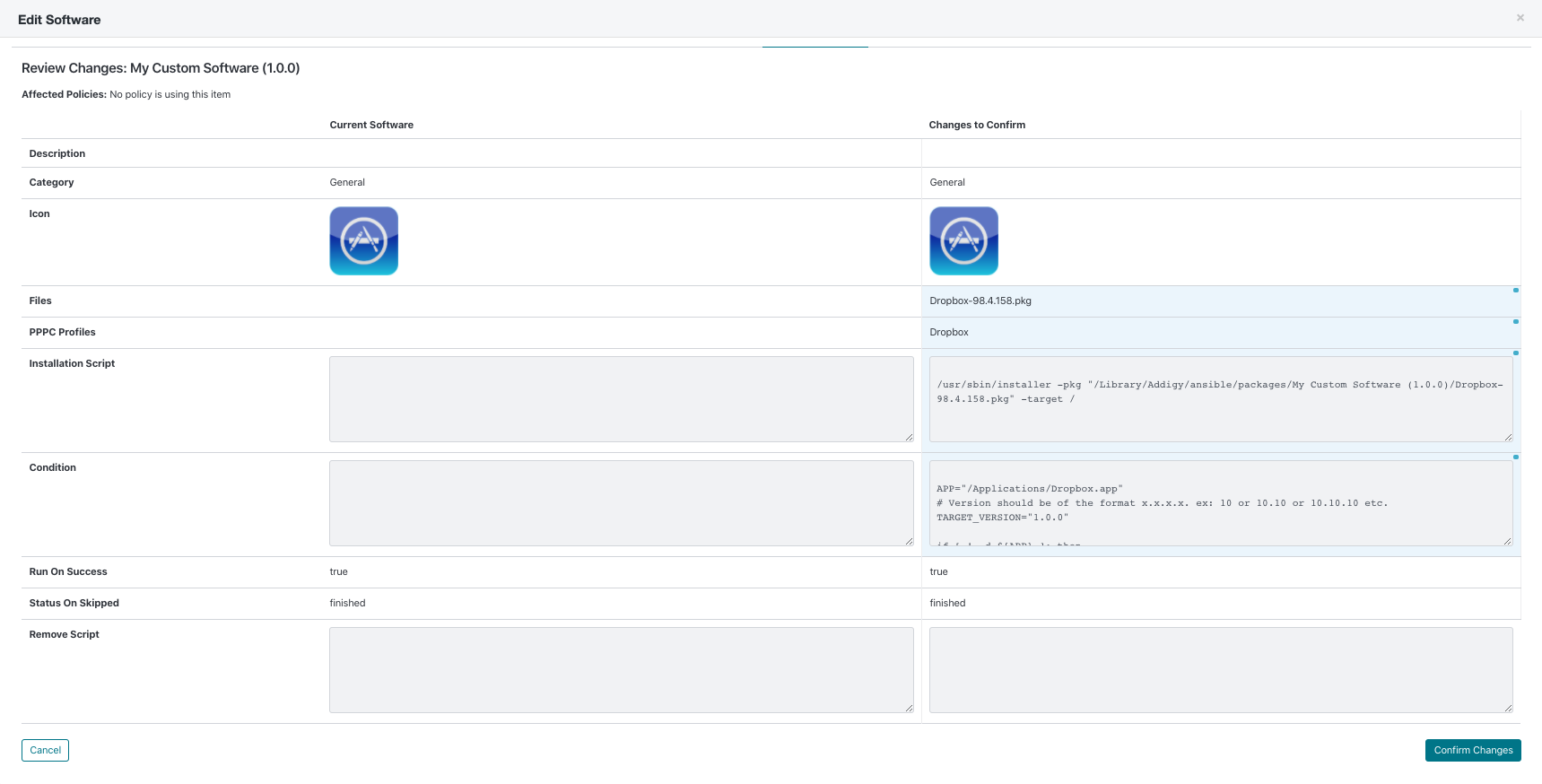 Clicking Confirm Changes will take you back to the Smart Software catalog. By typing your software identifier into the Find... bar, you can find it quickly. The new Smart software will show as an item in your catalog.
We recommend deploying your Smart Software items to test devices and virtual machines to verify their accuracy and robustness before pushing them out to your devices in production.