With Addigy Flex Policies, you can set up device filters that describe a set of devices in your organization, apply that filter to an existing policy, and Addigy will automate assigning that policy to the devices as they check in.
Part of this feature is that devices can be assigned to multiple policies at once, so you can use automated assignments without modifying your existing policy structures. If a new device gets added to your organization and fits the filter, it will automatically be added to the Policy.
Let's look at the steps required to add this feature to a policy:
Select a Policy
Start by navigating to an existing policy or creating a new one. In the summary page for that Policy, press the "Auto Assignments" button.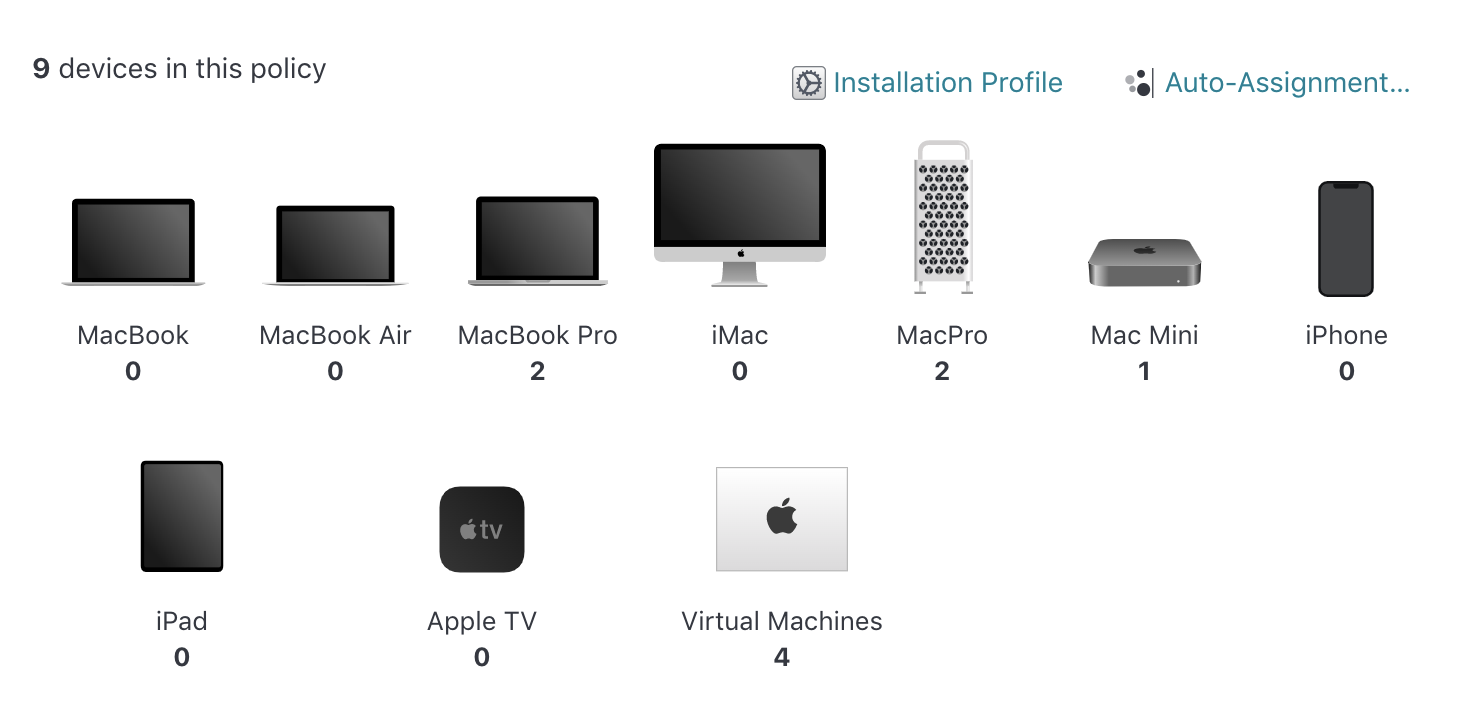 Create a filter set to target the devices for the policy
Create each filter using any standard, custom device fact, or static field available. Example: 'Device Model Name' equals 'iMac'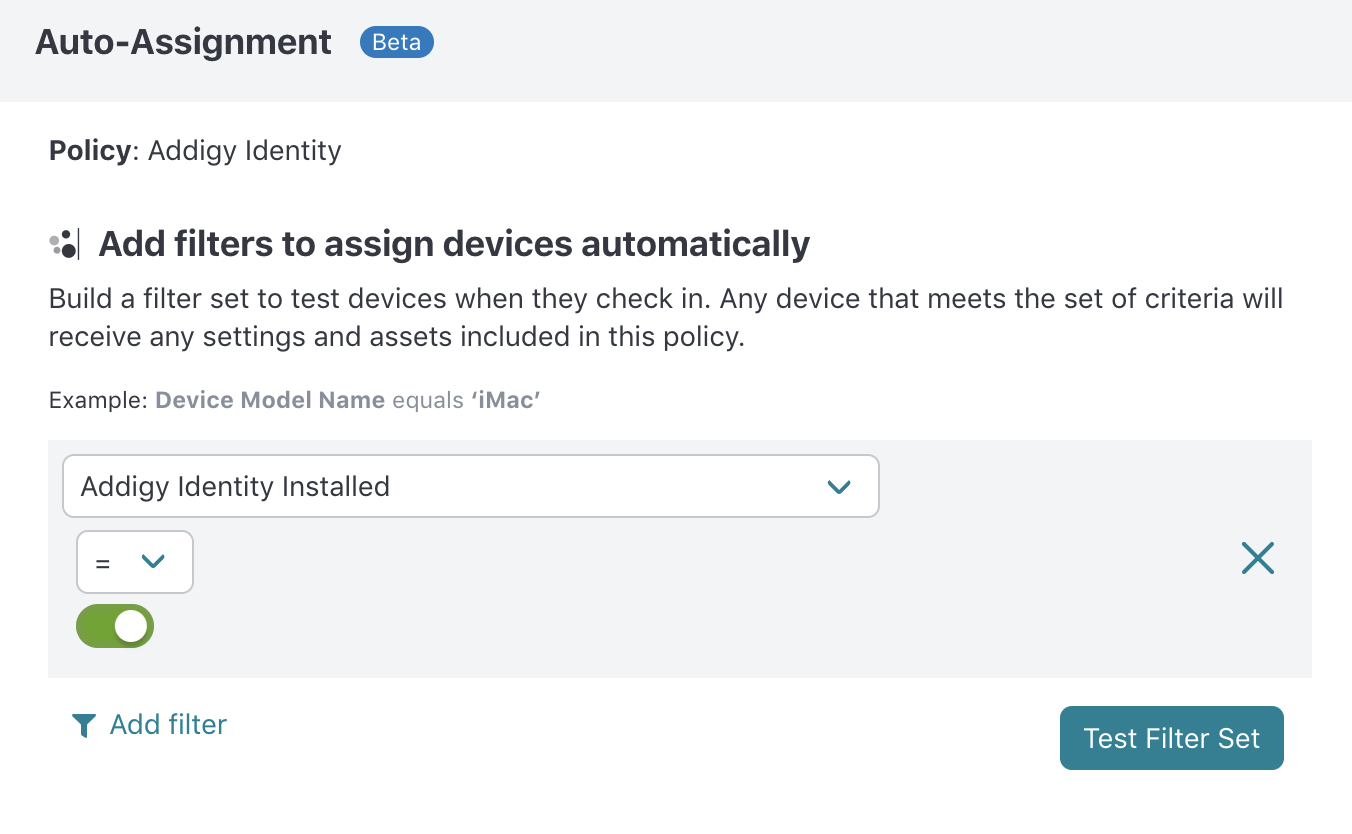 Note: All additional filters within the same block are to be treated as AND logical operators. Meaning the device must meet Filter #1 AND Filter #2 AND Filter #3, and so on. You can also extend this logic with OR logical operators after each group.
AND logical operator example

OR logical operator example

Use the "contains" comparison to match a partial string of text.
Checking if a fact exists
By leveraging the existing, operator, you make rest assured that an auto-assignment will only run if the device fact has successfully reported to Addigy. This can help you create more consistency, especially when using custom device facts that need some time to deploy to devices.

Scoping to other policies
You may only want to target devices that are assigned to another policy (those other policies can represent an organization or department). You can do this by selecting the "Policy IDs" fact, and clicking the Edit button to select any number of policies.

Now, your flex policy will target all devices in the selected policies. Any assets you add to the flex policy will now also be deployed to all the devices in the targeted policies.
Note: Selecting a parent policy automatically includes all of its child policies.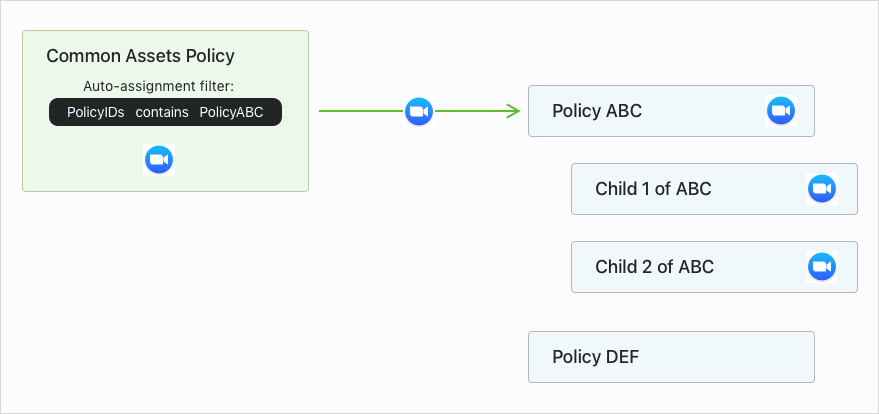 You can exclude any of the child policies by adding a second filter with the "does not contain" operator.
Testing Auto Assignment Filters
When creating an Auto Assignment for a Flex Policy, you may want to test the filter and see which devices will be pulled into the policy once the auto-assignment automation begins. You can do this by pressing the "Test Filters" button on the button right of the auto-assignment modal.



Then you can view all devices that match that filter,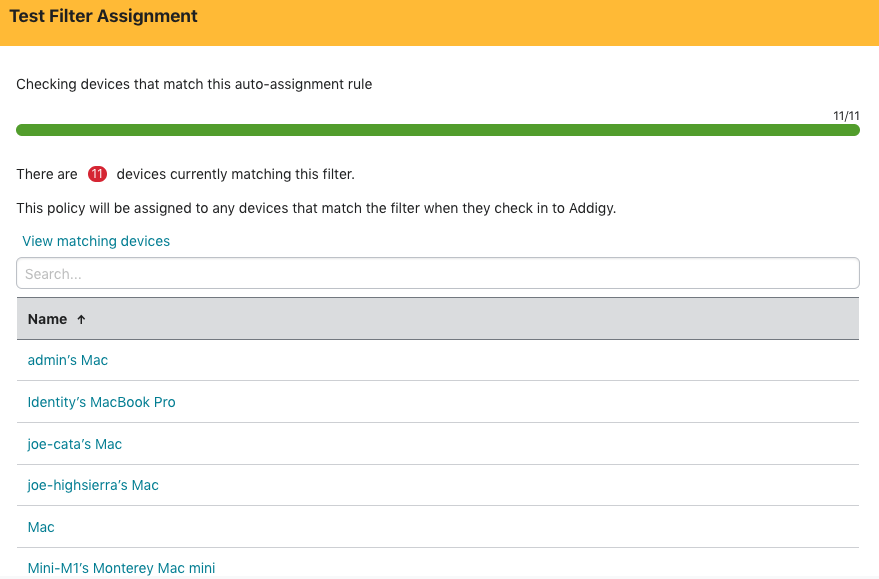 Disabling an Auto-Assignment
You can enable or disable any auto-assignment by toggling the button on the top. Any devices that were assigned to the policy previously will remain assigned.


Location
In Flex Policies, devices can live in multiple policies at once. The new policy_ids fact allows you to track each policy a device is a member of. As a byproduct, it's become harder to track the 1-to-1 relationship between a device and location (Company, Department, Etc). That's why we are introducing location.

You'll find some updates to the UI to accommodate this change. First, you'll notice the policy_id device fact is now called location.

Next, We are also adding the ability to bulk move a device's location via the devices page. You can use this to create a 1-to-1 relationship between a device and the company they belong to.
Deploy assets from your flex policy
With the auto-assignment in place, any management assets you add to the policy will be deployed to the devices described by the filter. These could be items from the catalog or software updates required by those devices.
Each time a device checks in, Addigy will check its current state against any auto-assignments and assign the appropriate policies and deploy all management items configured in the Policy. Enjoy!
Additional Notes
Devices will receive the MDM enrollment profile from their initial Policy