Addigy provides its partners with a unique ability to carefully prepare for major macOS upgrades. In our Public Software catalog, we publish items designed to block and suppress upgrades to new major versions of macOS. These upgrade blockers can serve as an important tool to give you the time you need to sufficiently vet major macOS upgrades before your users apply them.
The Addigy Public Software catalog provides install blockers for macOS 13 and newer.
Blocking Major OS Upgrades
The most recent version of these upgrade blockers is titled Block Install macOS Monterey (version) and includes the following features.
Addigy's proprietary utility prevents the Install macOS Monterey.app from running.
When the install app is prevented, a badge notification is presented to the user to explain the occurrence.
When the install app is prevented, an email or ticket is sent to the Addigy partner according to their ticketing integrations or support email settings.
Any Install macOS Monterey.app found on the device will be removed when the software runs as part of the policy, about every thirty minutes.
Badge notifications from Apple that prompt the user to upgrade will be supressed.
Automatic download of macOS updates will be disabled.
Automatic install of macOS updates will be disabled (except for critical updates).
Adding the Blocker to Your Policies
When you're ready to begin blocking a major OS upgrade, head over to the Policies > Software > Public Library under the policy where you would like to block the upgrade.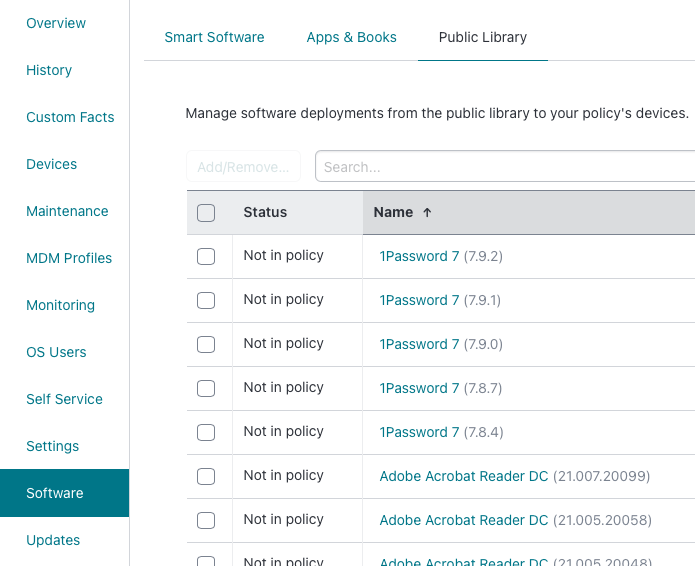 Then, search in the Public Library section for the desired OS that you would like to block and select the checkbox next to the title. Click Add/Remove and then Add to Policy. We always recommend using the most up-to-date versions of our blocking software!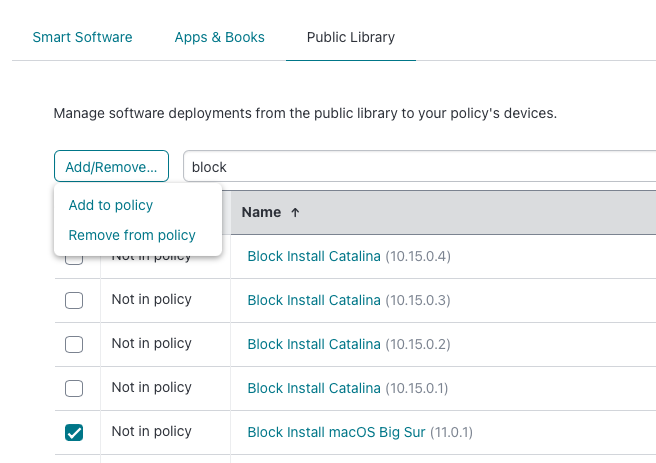 Just Confirm the addition after clicking Add to Policy and that's it! You're ready to start blocking a major upgrade from Addigy.
Removing the Blocker
When a blocker is removed from a policy, it make take up to thirty minutes for the device to remove all the pieces of the blocker. To speed up the process, we recommend going to Policies and selecting Deploy now... from the ... menu in the Actions column to force the policy to run immediately. When the blocker is removed, any lingering settings applied to macOS updates will not be reverted.