The Policies page is a core feature within Addigy. It allows you to set baselines for what you deploy to your organization's devices. Through inheritance, it allows you to create a hierarchical policy structure that makes sure your devices are in compliance with your baselines.
This article goes over the following Topics:
For more information on how to Create, Configure, Deploy, and Delete Policies, check out our KBs.
Global Policy View

The global policy view allows you to do many quick tasks.
Search through your policy structure to find your needed policy.
Toggle to see your entire policy structure or just the top level policies only.
Create new policies.
Deploy the policy or see the Deployment Status via the ... menu in the Actions column.
Individual Policy View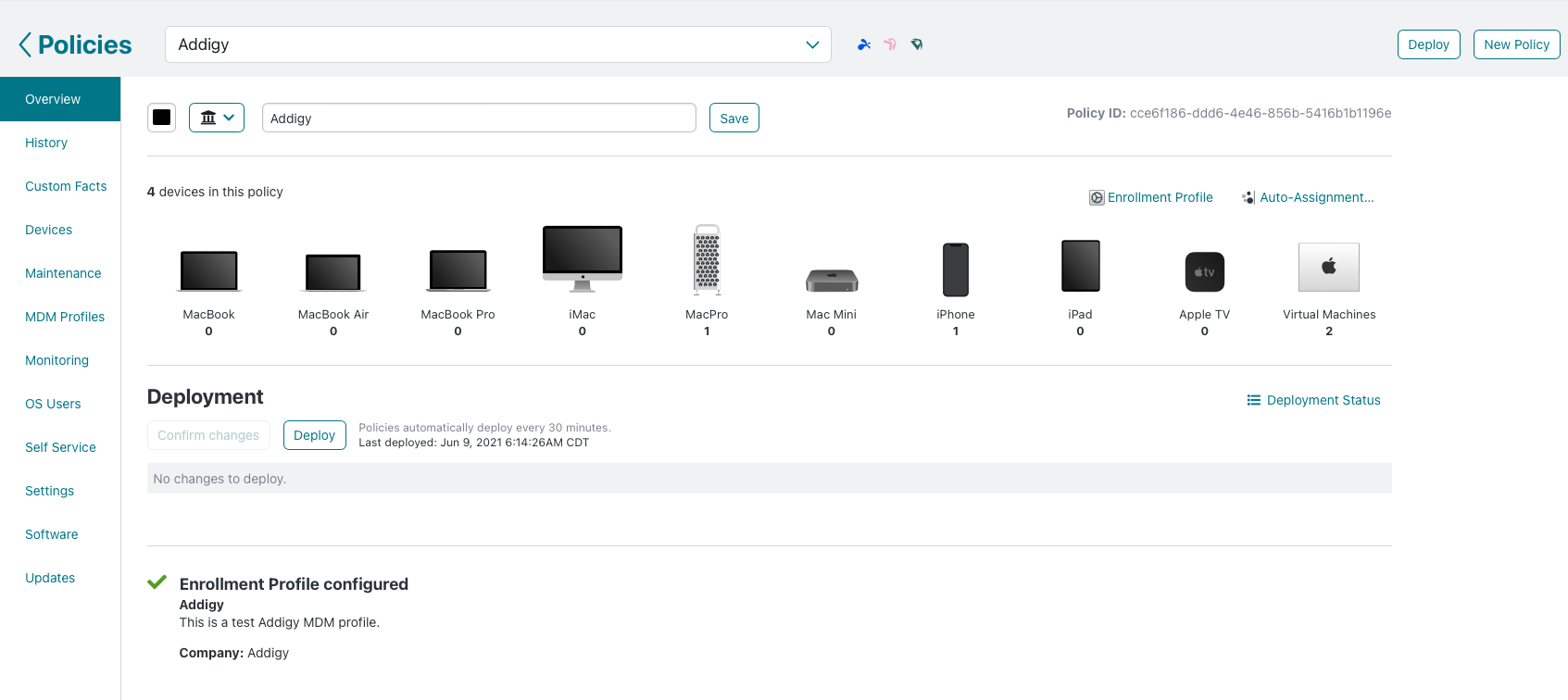 The individual policy view allows you to set all of your baselines for Custom Facts, Maintenance, MDM Profiles, Monitoring, OS Users, Self Service, Software (Smart Software, Apps & Books, Public Software Library), Updates (macOS Updates and Microsoft Office Updates), and Settings for your policy.
There is a navigation drop down menu at the top to navigate to other policy pages (parent, child, grandchild policies, etc.).
Icons next to the navigation drop down allow you to quickly see what remote control and integrated systems you have enabled for the policy.
You can Deploy the policy to your devices from any page in the policy by clicking the button on the top right.
Creating a New Policy can be accomplished in individual policy views as well by clicking the button on the top right.
Overview Section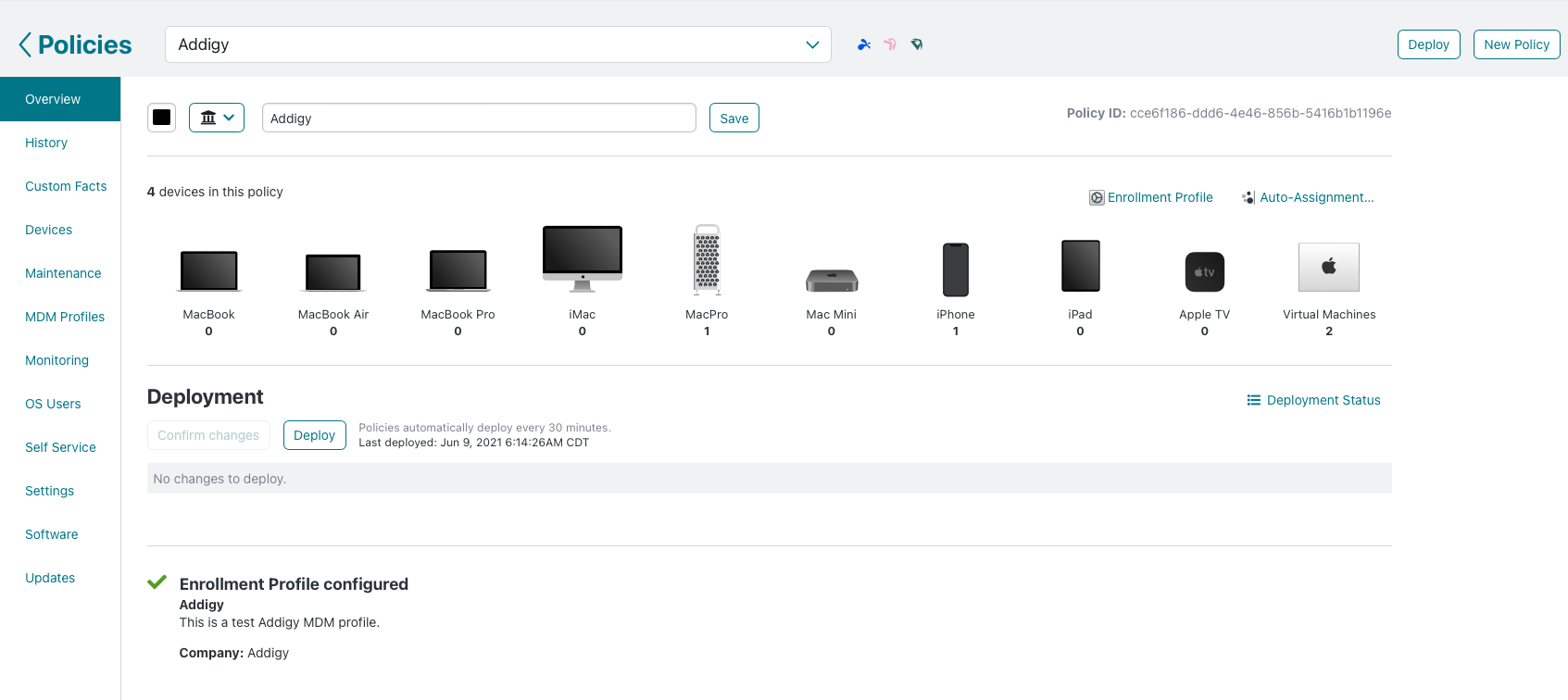 The Overview section allows you to see a quick overview of your policy. That functionality includes:
Changing the name, icon, color of the policy.
Deploying the policy to devices assigned to this policy.
Checking the Deployment Status of the deployed policy.
See the Enrollment Profile configured for the policy.
Grab the Enrollment Profile to add devices to this policy.
Delete the policy.
History Section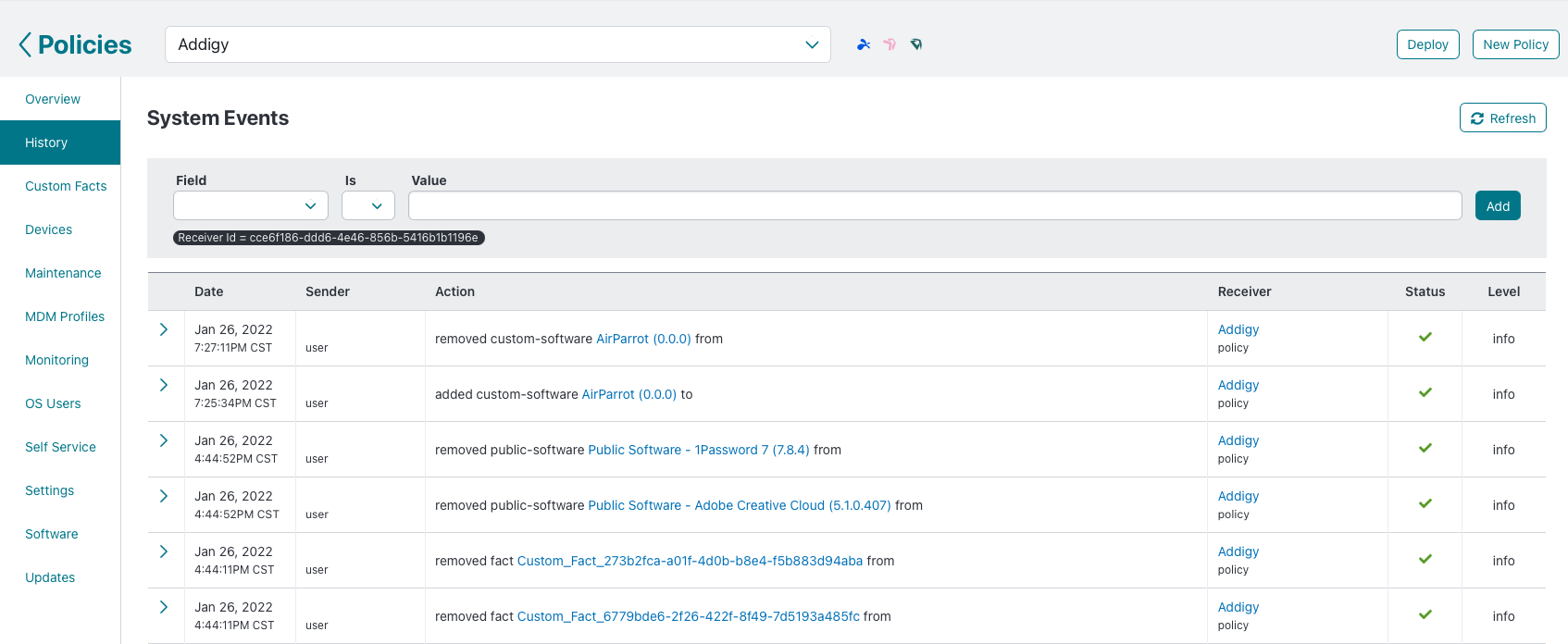 The History section shows changes made to policy.
Devices Section

The Devices section allows you to quickly see all of the devices that are assigned to a policy. It will show you the:
Device Name
Serial Number
Online Status
Last Online Status
Policy IDs
Moreover, you can see the device count underneath the Devices title. You can also see the device count of a policy on the Overview section. You can get all of the necessary Enrollment Profile information to add devices to this policy here as well.
If you'd like to move a set of devices from a policy to another policy, that can be accomplished on the full Device page.
Settings Section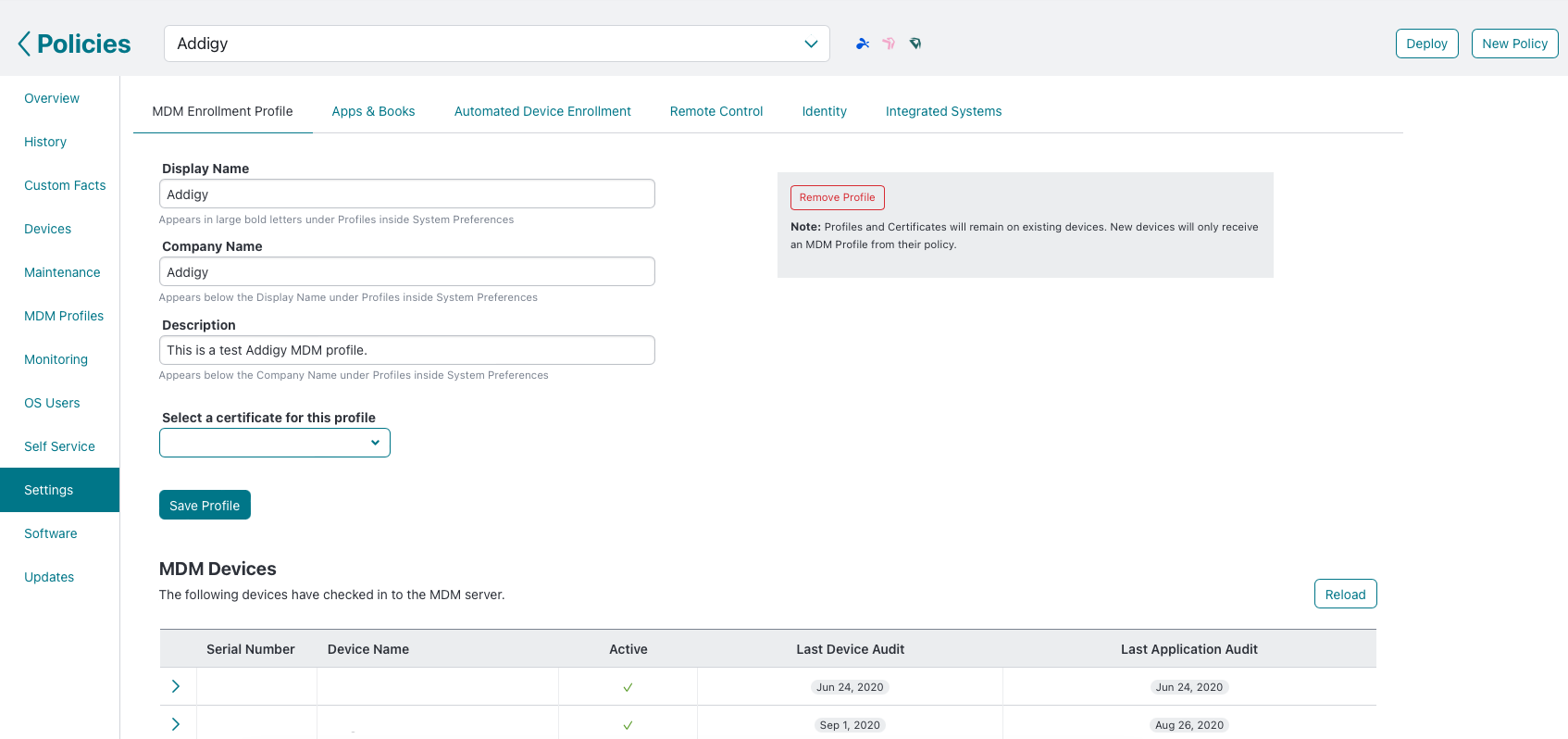 The Settings section is to set static data for your policy. This includes settings for:
More information can be found about deploying items to the policy here.